Last Updated on April 2, 2023 by Tabraiz
Choosing the right fitness fabric is the key to a comfortable workout session. It should deliver comfort, and performance and allows you to look good. A lot has been written where women wearing too thin fabric to show their body parts. Finding the right fabric is also important for uninterrupted workout sessions and achieving your fitness goals such as weight loss, bodybuilding, and muscle gains.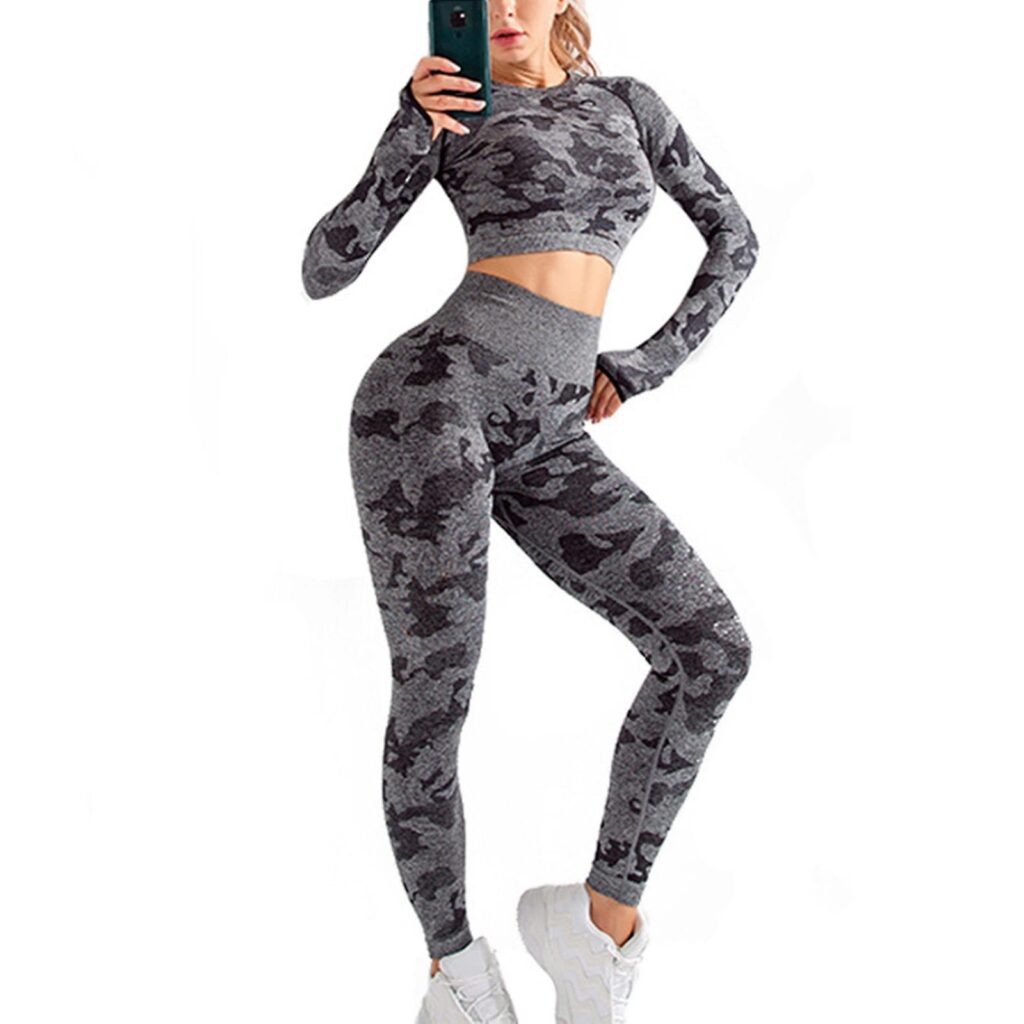 Factors to choose the best fitness fabric to workout
The selection of the fabric depends upon the kind of exercise you do. You have to search for the fabric that suits you best according to your movements. You can have different objectives for choosing a fabric and you have to decide on your own. If you are looking for fitness fabric for yoga and stretches, Lindsay's law states that cotton fabric will be best suited to help you in easy stretching. But if you are looking for a HIIT workout, muscle building, or the best workout results, Spandex will suit you best and will help with absorbability, comfort, and breathability. 
Moisture wicking fabrics
There are a wide variety of synthetic and natural fabrics available in the market that will help you stay dry and comfortable in a "soaked to the bone" look. Except for dryness, there is some chemical added to the moisture-wicking fabric to increase its non-absorbent ability and add it to the garment exterior or outer layer. Our moisture-wicking and non-absorbent fabric help you to stay comfortable even during the toughest workout sessions. While washing moisture-wicking clothes, don't add fabric softener as it will dissolve this property.
Compression fabrics for fitness fabric
Special knitted and fabric combinations of primary spandex and nylon fabrics are the best-known compression fabric to improve circulation for your physical activity to alleviate stiffness, soreness, and haste muscle recovery. Compression fabric can improve your blood flow, help to reduce lactic buildup, and prevent delayed muscle soreness and fatigue. You should try the blend of nylon and lycra that support you in tummy control and body shaping.
Technology used
There are new fabric clothes with antimicrobial treatments to combat odor. Avoid the fabric that does not breathe. Never wear clothes made out of plastic-based materials or rubber-based materials as they do not evaporate sweat and keep your body temperature too high during exercise. Don't wear bad quality fabric material as it does not help you in physical functioning and also contributes to heat exhaustion.
Comfort counts for fitness fabrics
Avoid using fabric that irritates you during repetitive physical movements. Smooth stitching versus flat lock is preferred so the seams are flat instead of raised and known as chafe. Choose the fabric that allows you to move and doesn't constrict you. Always look for 4-way stitches in the product description while buying the fitness fabric. Look for the Lycra and spandex material that allows you a great amount of motion, comfort, and functionality without revealing your secret parts or being skin-tight.
Most popular types of fabrics for activewear
Spandex Fabric
Spandex material is known as Lycra for buying. It is found ideal for athletes and fitness freaks due to the high range of motion during their sports games and workout sessions. This fabric is mostly used in tracksuits as well as leggings and gemstones for fitness lovers. It is also found in shorts, socks, and looser clothing. Spandex is most effective in wicking moisture. It can stretch 8 times the normal shape of the fabric and is effective for stretching movement exercises like yoga and aerobics.
Bamboo fabric
Bamboo is an eco-friendly material that is used in toilet paper cutting boards and decor work and much more. Bamboo pulp is a highly lightweight fabric material. It is a high-end fabric which means you can expect a higher cost for this apparel. The awesome qualities of this fabric are odor-resistant, moisture-wicking, insanely soft, and temperature-regulating.
Polyester Fabric
Polyester is another kind of amazing material used in activewear. This fabric is made of plastic fibers. It is wrinkle-free, air-tight, and durable. Polyester can have a moisture-wicking material that absorbs moisture. Choose polyester fabric as your fabric for activewear.
Thermal Fabric
Thermal fabric offers maximum warmth during cold weather. They are denser and softer than other fabrics with high-performance capacity. They are designed for more intense outdoor exercises. This not just retains warmth but is also breathable and sweat-wicking. Thermal fabric is also known as hoodie fleece and is used for outdoor hiking, outdoor cycling, and cold gyms.
Decision time
Sportswear fabric demands keep on changing due to required features. Due to the increasing number of fitness and outdoor exercise activities, the quality of the fitness fabric is improving day by day. These days, activewear is available in different fine fabrics and you can choose from spandex, polyester, thermal, and bamboo fabric for your everyday workout or game.
Apart from this, if you want to know about Gym Apparels in Australia then please vsit our Fitness category