Last Updated on March 13, 2023 by admin
PDF files are widely used in business industries for many purposes, and sometimes a user needs to sign them. Confidential documents and business deals are mostly signed by using a PDF tool. A third-party PDF editor is required for adding signatures in a PDF file because you cannot just add a signature but can also customize it as per your liking. If you are a user who usually encounters this type of scenario, this article is for you because here we will discuss UPDF – an innovative PDF tool.
This tool can help you with several types of PDF problems. Moreover, if you are a person who needs to work with PDF files daily, then you need a tool like UPDF. By the end of this discussion, you will know how to sign a PDF effortlessly.
Part 1. How to Sign a PDF in Seconds with UPDF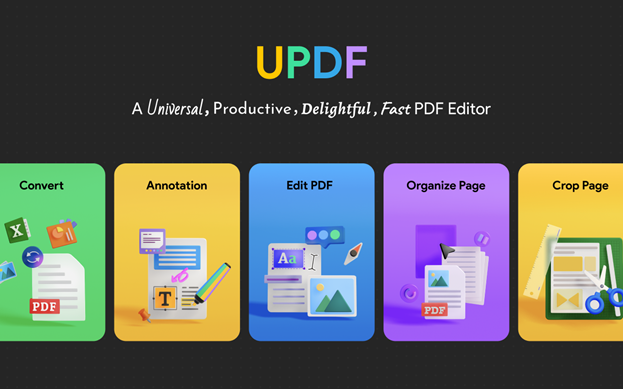 UPDF is an excellent third-party PDF tool that can help you on several platforms like Mac, Windows, iOS, and Android. The user interface of this tool is tidy and friendly, so you will not face any difficulty working on a file with this PDF editor.
By using this intuitive tool, you can make your PDF files more productive and professional. Its assistance is not targeted to any informal PDF files, so you can use it for confidential and formal files also. Additionally, adding signatures in a PDF and customizing it is also very easy with this tool.
If you also want to add signatures to your confidential or official PDF files, follow the steps listed here:
Step 1: Open UPDF and Add PDF File
To get started, download UPDF into your computer and launch it. On the main interface, you will see the button "Open File" select it and add a PDF file.
Step 2: Create the Signature
Once the file is imported, click on the "Comment" icon from the left panel. Now locate and select the option of "Signature" from the toolbar. By this, you can add your signatures in a PDF using your keyboard, trackpad, or mouse. Once done with creating the signature, you can also customize it by changing its color and thickness.
Step 3: Add the Signature
After finalizing the signature design, tap on the "Create" button and place it anywhere on your document. You can also resize the signature according to the requirement of your document. When the PDF file is signed, click on the "File" tab and select "Save" to save the PDF on your device.
Other Powerful Features of UPDF You Must Know
As you have seen that you can create and customize signatures captivatingly with UPDF and apply it to any part of the document, you must be wondering about its other features. It has many flawless features which you can use comfortably to create a customized file. To learn more about the features of UPDF, have a look below:
1. View and Annotate
With UPDF, you can view a PDF file entertainingly as it supports several page display modes. In addition to this, you can also run PDF as a slideshow or view multiple documents at the same time. It also allows you to navigate across the document smoothly.
As for the annotation, it is one of the most helpful features of this PDF tool. You can highlight or underline important points and strikethrough unimportant text with it. This tool also allows users to draw personalized figures in a PDF with its Pencil and Shape features. Adding stamps and stickers in a PDF is also a very comfortable process with UPDF.
2. Edit PDF
Editing PDF is needed, and you can fulfill it with the revolutionary editing features of UPDF. From editing text to editing images, it can help you with all. You can modify the text by changing its style and size. It also allows you to edit images creatively to make the outlook of your PDF more stylish. The editing features of UPDF don't end here because it can edit the links as well. If you want to learn more, please visit how to edit a PDF on Mac and Windows here.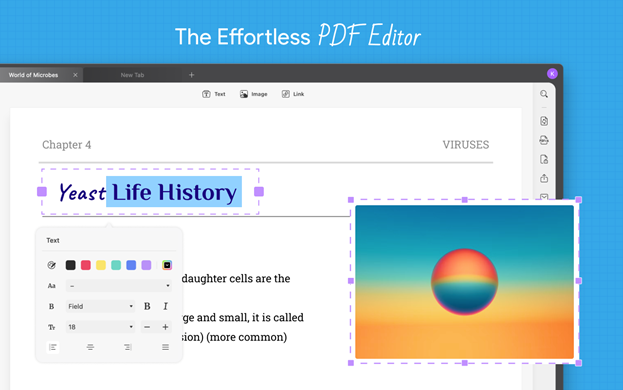 3. Convert PDF
Converting PDF files is way easier with UPDF because it supports multiple document formats. Some of them are PDF/A. XML, HTML, Text, Rich Text, Word, Excel, and PPT. You can also convert the scanned PDF files with OCR to make them editable and searchable.
4. Encrypt PDF
Privacy concerns make it important to encrypt PDF files with sensitive information. You can accomplish this task flawlessly with UPDF because it has prevalent security properties. It supports both open and permission passwords, and you can also control the printing and copying of PDFs.
5. Sign a PDF
Signing important PDF files can be a convenient process if you work with UPDF. It comprises all the signing tools which can help you in adding signatures in a PDF perfectly. This tool allows you to add signatures anywhere in a file and customize it accordingly.
6. Organize PDF
Format, shapes, and illustrations in a PDF can disrupt the layout of a PDF, and a user needs to organize it by using a good PDF tool. UPDF allows its users to organize PDF files by inserting, replacing, extracting, splitting, rotating, cropping, and deleting pages in a PDF.
7. Reduce PDF Size
Reducing the size of large PDF files to an optimal level while maintaining the quality of the file can be done efficiently with UPDF. With just a few clicks, you can make large PDFs more shareable. The document quality options include Maximum, High, Medium, and Low, and you can select one of your choices.
Why UPDF is Our Top Pick
UPDF is one of the top-rated tools because of its innovative features and fast speed. There are many more features that set it apart from its competitors, such as PDF Expert, and they are also mentioned here:
| | | |
| --- | --- | --- |
| | PDF Expert | UPDF |
| Pricing | Yearly: $79.99 Lifetime: $139.99 | Yearly: $29.99 Perpetual: $49.99 |
| Systems | Mac, iOS | Windows, Mac, iOS, and Android |
| Edit PDF | ✔ | ✔ |
| Sign PDF | ✔ | ✔ |
| Display PDF as a Slideshow | X | ✔ |
| Squiggly Lines, Hexagon, Triangles, Text Callout, Text Boxes, and Stickers | X | ✔ |
| Watermarks, Rich Text | X | ✔ |
| Convert to RTF, HTML, XML, PDF/A, CSV, BMP, GIF, TIFF | X | ✔ |
| Insert Pages from Another PDF, Replace Pages | X | ✔ |
| Add Permission Password | X | ✔ |
| Share PDF via Link | X | ✔ |
Conclusion
Signing PDF files can be a complicated procedure because you need to work with a third-party tool to learn how to sign a PDF. However, the best tool to do this is UPDF because it has all the properties which can make signing easy for you. From adding signatures to a document to customizing it, everything can be done perfectly with it.