Last Updated on April 5, 2023 by admin
What is alternator?
An alternator is an electrical generator that sends power to your car battery and runs the various features in your vehicle. This includes items like the headlights, turn signals, wipers, stereo system, GPS navigation system, cellular phone charger, etc.
If you don't have charging voltage going into your battery then nothing works. That's why if you leave your lights or stereo on accidentally for a few hours or days with the engine off it'll be dead when you try to start it – because eventually the charge will drain out of your car's battery. The purpose of an alternator is to keep this from happening.
The cost of an alternator can vary greatly depending on your vehicle type and where you purchase the part from. On average, a new alternator can cost anywhere from $100 to $400, with higher-end luxury vehicles and heavy-duty trucks typically costing more. However, it's also possible to find refurbished or remanufactured alternators at a lower cost, usually between $50 to $200.
When purchasing an alternator, it's important to consider factors such as the warranty offered, the quality of the part, and the manufacturer's or supplier's reputation. Additionally, the installation cost should also be taken into account if you're unable to do it yourself, which can add an additional $100 to $200 to the overall cost. Ultimately, it's important to shop around and research to find the best alternator at a price that fits your budget.
Types of alternator
There are 2 kinds of alternators:
Belt driven
Serpentine belts systems
Belt driven are more common on cars today and use a belt and pulley system to turn the alternator. On these types, you can easily find the location of the belts as they are quite accessible. Serpentine belts do not require a belt replacement service as much as those that use a belt driven type.
Serpentine belt
The serpentine belts (like this one here) drive all your car components including: power steering pump, water pump engine fan, and air conditioner compressor so it requires less effort from your engine and uses less fuel too.
This is why you should regularly change your serpentine belts every 30k miles or so – to avoid expensive repairs down the road. If you have an older vehicle with a standard belt driven alternator, let an experienced technician at your Mechanic change your alternator for you.
Taking care of vehicle
Just like your tires and oil need to be changed at regular intervals, so do batteries and belts, even if they don't show any signs of wear and tear. It's important to take care of these at the same time as it works out cheaper in the long run; we offer a free 30-point inspection with every your mechanic service appointment that includes checking all these parts (and more) for proper operation, giving you peace of mind knowing that everything is in its right working condition.
What is the cost of replacing an alternator?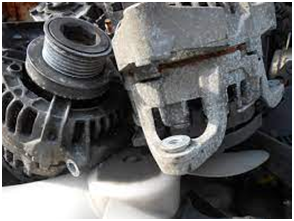 The cost of new alternator is about $200 to $500. The price for labor alternator is about $100 to $ 200. There is a difference in the price of both. The price changes according to the vehicle.
Note: Alternator replacements are not covered by insurance.
An alternator replacement will cost about $1,000, but the work should last you for years. If it's not too old or worn out, your car manufacturer may cover the costs of a new one under warranty. Another option is to find an independent mechanic who'll do the work for cheaper than dealerships charge. (The only exception would be if the alternator was damaged in a car crash).
Read More: How to play gta 5? How to save game in gta 5: complete description of game.
Battery in vehicle
Your vehicle has a 12 volt battery, which is what keeps everything going while the engine isn't running. The battery is hooked up to the starter of your car, and it's what makes it possible for your car's engine to start. When you turn the key in the ignition, the electrical system sends a spark across a gap in the starter motor and gives it enough power through another set of cables to get things moving. Some important points are mentioned, while using vehicles consider them.
When the vehicle is not working all the power of vehicle is given to the battery.
The basic working of battery is to start the vehicle in normal position.
When battery became successful and the vehicle is to start to run then it is easy to move the next process. Then, flywheel and crankshaft will be work further.
Your vehicle has a 12 volt battery, which is what keeps everything going while the engine isn't running
The battery is hooked up to the starter of your car
When you turn the key in the ignition, electrical system sends a spark across gap in starter motor and gives it enough power through another set of cables to get things moving
Everything else is just to maintain what you have provided.
Average range of alternator
Getting to the heart of your car's electrical system is the alternator. Alternators are electronic devices that help keep all of your car's parts running while recharging any battery power lost when you turn on lighting, wipers, and other accessories. If only the starter is broken, the replacement cost can be minimal (typically under $100 for models manufactured in early 2000s).
However, if the alternator has stopped working or has issues like bad wiring or loose wires connections you may need to get an alternator replacement. The average range is between $400 and $800 depending on its size (larger vehicles tend to have higher priced parts) and type (i.e. semi-automatic, manual, mechanical).
Alternator in big vehicles
An alternator is a part of the vehicle's electrical system. Alternators are found in most cars, trucks, and SUVs, but not in all vehicles. They are mainly found in larger vehicles with more electrical components. If only the starter is broken, the replacement cost is typically minimal. The amount an alternator costs depends on its type and model. Some will run over $1,000 while others can be as low as $180. Most will fall somewhere between these two figures at approximately $500.
Some may claim that changing out an alternator can be done by people who are "mechanically inclined." However, this job should always be left to professionals because there is risk of shock when with vehicle electronics and volts/amps when working with the motor.
How much should an alternator replacement cost?
Depending on the make and model, alternators can cost anywhere from $100 to $350 on average. If no other parts need to be changed, replacing an alternator will typically cost between $350-400 for most automobiles. If the serpentine belt is used in the process, your cost will increase from $20 to $50.
Does it make sense to replace an alternator?
If the alternator is broken, it is typically wiser to replace it. Even though they might be expensive, new ones are generally preferable to remanufacture or rebuilt alternatives. Since the mechanical components have previously been used, they most likely won't survive as long as a new one would.
Apart from this, if you are interested to know more about API in Cloud Computing then visit our Tech category.
Frequently Asked Questions
Is it best to change or replace the alternator?
Yes, it is best to change or alter the alternator if it necessary.
What is the average cost of alternator?
The average cost of alternator is ranges from $100 to $350.